Some kind words from our 2,450+ OC tennis players
(86,600 + nationwide)
Member Since 03/15/10
I have found some great matches and players. Everyone has been very flexible. It's a great league! I plan on playing for years to come.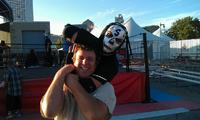 Member Since 06/25/09
My game has improved significantly, because I have been able to play a whole array of partners, who I would have never played, w/o TennisOC.
B. Broderick
TennisOC.com